This coming February 9, I'm going to premiere a new orchestration of my setting of the 46th psalm (titled, aptly, Psalm 46), realizing an intention that I've harbored since I composed the piece in 2011. The piece was originally scored for organ, handbells, brass and timpani (and choir).
As I've come back to the piece to give it its new orchestral garb, the memories of its creation have come flooding back. It's my own little Proustian madeleine.
I composed Psalm 46 in one of my off-years from full-time conducting, ironically enough, right after having completed my masters degree (…in conducting.) It wasn't for a lack of trying that I didn't have a job; I had applied for every position I could find. I was roundly rejected from every one.
So I decided to move back to Chicago from Bloomington, IN, which was a bit of a let down, but it seemed like the best choice. My professional network was in Chicago, and I assumed I could always pick up a bit of extra work giving lectures for the Chicago Symphony (it turned out they only offered me 3 concerts that season.)
I rented a little apartment in Ukrainian Village on Chicago's west side. My landlady was a somber Polish woman whom I hardly ever saw since she spent most of her time in Poland "visiting her son". When I asked where he lived, she told me he was dead. That has always stuck with me.
My landlady owned only half three of my building's six units. The others were owned by a truly loathsome man who lived on the top floor with his wife. He was immature and aggressive, a bully and a tormenter. He was so abhorrent that – and I'm not making this up – the previous tenant in my apartment had defecated in the communal washing machine as a final act of retribution.
This landlord and his equally detestable wife often had violent shouting matches. During one such outburst, when they were arguing about something to do with the building, I heard them refer to me as "the composer", which I'll admit I did appreciate.
This year when I didn't have a real job was a challenge but it also proved that I had very many loyal friends who were willing to help me. Most of that help came in the guise of commissions for new pieces. Psalm 46 was one of those works.
The piece was commissioned by the church where I had been working right before I left for Bloomington, and it's really a testament to the kindness of that congregation, since I had left after only a year when they were fully expecting me to stick around for at least four or five.
The commission was quite specific with regards to instrumentation: it would be written to celebrate the retirement of their longtime organist (a dear friend) who was also the director of the handbell program. As the church also had a resident brass ensemble, they were to be included as well.
As happy as I was to have the commission, that ensemble was a field of land mines. Writing for organ is always fraught, though Mike, the organist was and is a good friend and a dream to work with, and he greatly improved my writing for the instrument.
Nobody could improve my writing for the handbells though; they simply shouldn't be written for.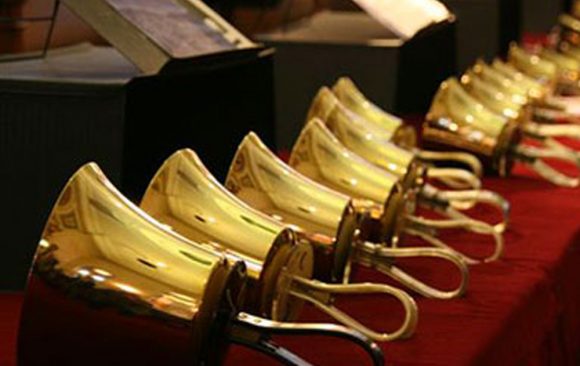 Inexplicably, some people enjoy the so-called English handbell choir. To me, they sound like the unholy union of a tin can and a cowbell, and what's more, I can not fathom why anyone would want to play in an ensemble where you only get to play one note ("But if you play the little ones, you can play up to four at a time!" I am told. Gee willikers.)
Compositionally, this piece was a big step in my development. Parts of it were probably a bit too outré for those lovely singers in suburban Illinois, but they tackled their task with gusto, led by my successor, who turned out to be a petty bitch. He actually kicked me out of the dress rehearsal of my own piece when I tried to adjust the balance from where I was sitting in the back of the sanctuary.
But now I get a second go on this piece. In addition to re-scoring it for large orchestra, I've also added some extra amens for the chorus at the end, since one of the original chorus members complained to me that she was miffed that the chorus didn't get to sing the end the piece. (They still don't, but they get much closer.)
The thing I'm most looking forward to hearing is the work's major climax, a huge modulation that takes place near the end of the piece, landing on a monumental C major chord. I remember being so delighted by that passage when I wrote it that I called my friend Tim and begged him to come over and listen to it.
But there was something that robbed that moment of its fullest glory, something I desperately wanted but couldn't have: a cymbal crash. I've been awaiting that cymbal crash for 8 years, and now, god willing, I'll finally get to hear it.