The Saga Continues…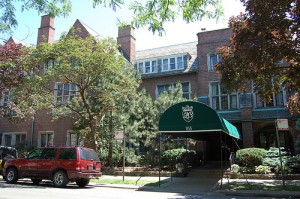 Back in August of 2009, I wrote a hard-hitting exposé about the green awning that once proudly stood in front of the University of Chicago Quadrangle Club at 57th St. and University Ave.  The awning represented something fine and good and upper crust, something with an air of old world exclusivity that is lacking in our modern age.  New management had recently taken over the club, and the awning disappeared without a trace.  My demands for an explanation were met with silence.
After two and a half years, I thought the story was over, and that the awning would never be replaced.  Even worse, I thought that everyone had forgotten about it.  I cancelled my membership at the club.  Between the awning and the new bar stools, it just wasn't worth it.
Though no longer a member, I continued to write songs for their annual revue, the infamous Quadrangle Club Revels.  The 2012 Revels was a noir styled "thriller", and in one scene, the ace private eye at the center of the case delivers a line of dialogue about various unsolved Hyde Park mysteries.  I suggested an addition to the script by Andy Austin: how about we include the mystery of the Missing Quad Club Awning?  It took a little convincing, but Andy used the line.
The script was finalized at the beginning of January, and the show went up 4 weeks later.  I couldn't get to Chicago to see it this year, and frankly, I had forgotten all about that little inclusion (my main concern was the truly filthy song that I wrote for my friend Lauren.)
And then, lo and behold, this letter-to-the-editor appeared in the Hyde Park Herald:
You can imagine the rest.  (I didn't take a screen shot of the top of the next column.  The Herald makes available only the most recent edition online, in jpg. format.  I know of no better way to sum up Hyde Park.)
The moral of this story is: art matters.  Drama can still be a vehicle for social and architectural change.  This may be only one letter-to-the-editor, but this single voice proves that the cause is not forgotten.  Academic pencil-pushers can't just go removing awnings at will.  A movement is at hand.