I'm just back from Europe and wanted to collect a few thoughts here. This was a mixed work/pleasure trip, the main event being a London recording of my Concerto for Choir, an a cappella piece in seven movements that I composed during the final days of the pre-vaccine era. I will have much more to say about this later.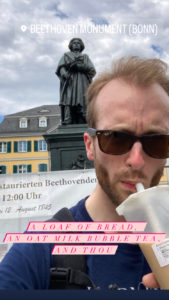 My itinerary included stops in the UK, France, Switzerland, Germany, and the Netherlands. I heard a couple of Proms concerts and two performances at the Concertgebouw, including a phenomenal new piece called The Redcrosse Knight by the young Dutch composer Xavier van de Poll. I also saw a play in Frankfurt. And most happily, I visited old friends and met new ones.
Here are some tweet threads I did about visiting the Ravel house museum, the city of Bonn (a Beethoven town that's secretly a Schumann town), and visiting the grave of Arthur Schopenhauer.
Before crossing the Atlantic, I stopped in New York for a different recording project, where I got to see Into the Woods during its limited run on Broadway after transferring from City Center (superb, especially the orchestra) and an American Symphony Orchestra concert at Carnegie Hall (about which, more below in the Gabfest episode.)
Then it was a week-long stint guest teaching at the Pierre Monteux School. This invitation came in the wake of the passing of my dearly beloved teacher, Michael Jinbo, so it was both thrilling and surreal at the same time. I taught Brahms' 3rd symphony, Lili Boulanger's D'un matin de printemps, Rachmaninoff's 3rd symphony, and two of the movements of Dvorak's 7th. Can't ask for much better than that.
Much of these travels were memorialized on… what else? The Classical Gabfest!
In the middle segment, Tiffany and I discuss Pierre Monteux's Rules for Young Conductors. I've gone ahead and posted them here, since they're a bit challenging to find online.