Believe it or not, we've now been doing the Classical Gabfest for A YEAR.
What started as a pandemic project has become a weekly source of artistic and intellectual sustenance, and a product I'm genuinely proud of. I'm a podcast junkie, so I had a clear vision for the kind of podcast I wanted to produce from the jump, but I have to say, I owe it all to the Gabfest team — my co-hosts Tiffany and Kensho, intern Joey, consulting producer Eric, and listener-statistician Christopher — for making it as good as it is. And I think it's very good indeed.
The last project of this type that I tried my hand at was the Ask a Maestro vlog, and I gave up on that after less than a year. To research, script, film, present, edit, and animate a compelling internet video all by oneself is a Sisyphean undertaking, and my editing skills (and my computer's RAM) just weren't up to the task.
But team work makes the dream work! Plus, somehow all the practice podcast editing has actually paid dividends. I've actually gotten better and more efficient at it over the past 12 months in a way that I never did with video editing.
People keep asking me if we're going to keep it going now that the pandemic is… well, not over, but in a new phase. And the answer is: yes, that's the plan. I really love it and the team, thankfully, is as committed as ever.
I'll end this little bit of boasting by mentioning the fact that I commissioned an art work in celebration of our podcast anniversary from a very talented conductor / visual artist named Andrew Crust: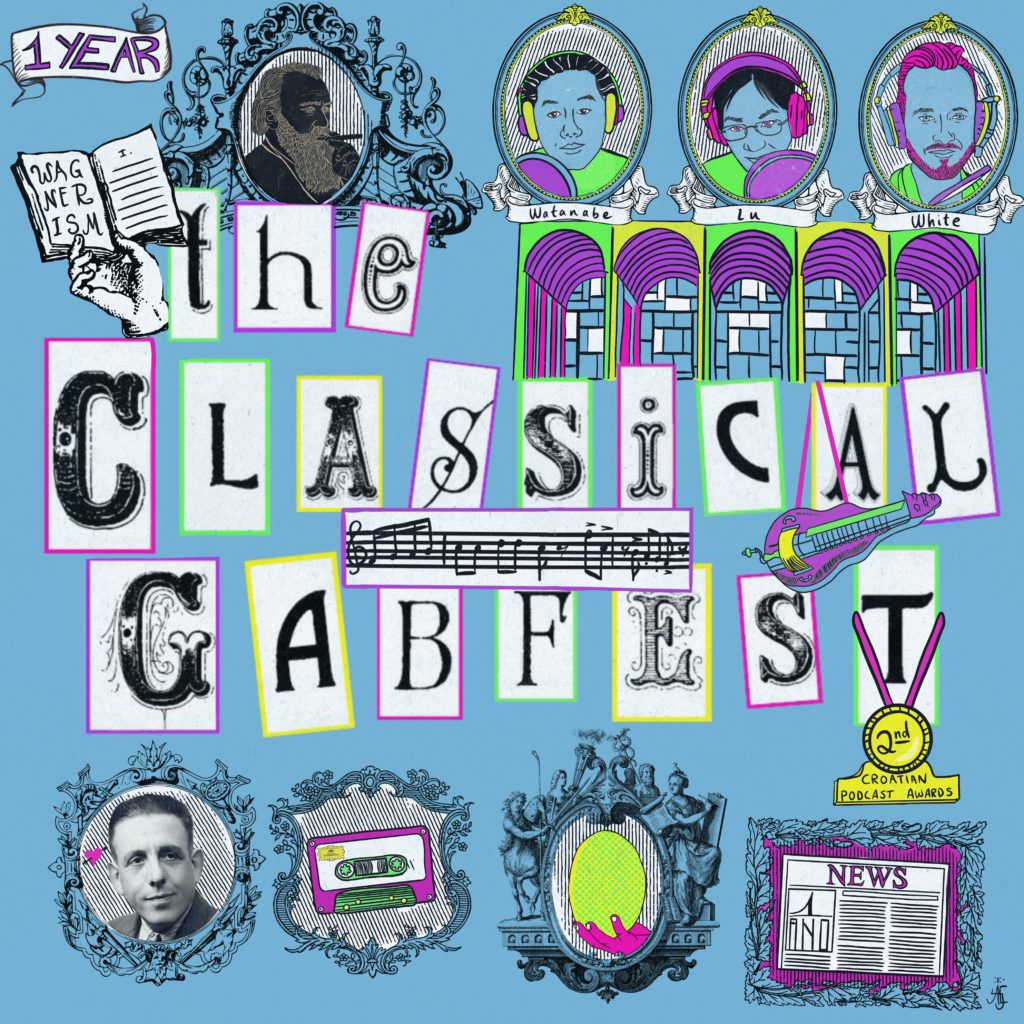 In the coming days, we're going to challenge our social media followers to identify all the references, so for people that actually read my blog, I'll offer a cheat sheet, starting in the top-left corner.
Wagnerism is a book by Alex Ross that we did as a book club project over the course of three episodes. Our final evaluation was summed up admirably by Tiffany: "this is a reference book disguised as a popular history."
Johannes Brahms is "the king of our mixtape" and easily the composer most beloved by my our team as a whole.
The three of us rendered in "pop art" style.
Just below our portraits is the façade of the Metropolitan Opera in New York, easily our bête noir this past year as we chronicled their many travails and missteps as an institution.
Smack dab in the middle, we've got our theme music.
Hanging from the "a" in "Classical" is a hurdy-gurdy. Tiffany built and played a hurdy-gurdy from UGears in one of our favorite segments.
On the "t" in "Gabfest," we've got a 2nd place medal from the Croatian Podcast Awards. This refers to a time when we received an utterly mysterious email in our inbox telling us that ours was the second highest downloaded podcast in the "Music" category in iTunes Croatia. It remains a badge of honor.
In the lower-left corner we've got Francis Poulenc, who has a special place in the Gabfest pantheon.
The Classical Mixtape, which is starting to get unwieldy!
The most "inside joke" on the page is the ostrich egg. You'd have to have seen our actual Zoom sessions, but for a long time, Tiffany was podcasting from a room in a rented house that included a large, decorative ostrich egg on a shelf behind her head.
NEWS! The whole show, in a way, is built around the news, but a regular segment on the show is a brief roundup of headlines, and of course we use the famous aria from John Adams' Nixon in China as the theme.