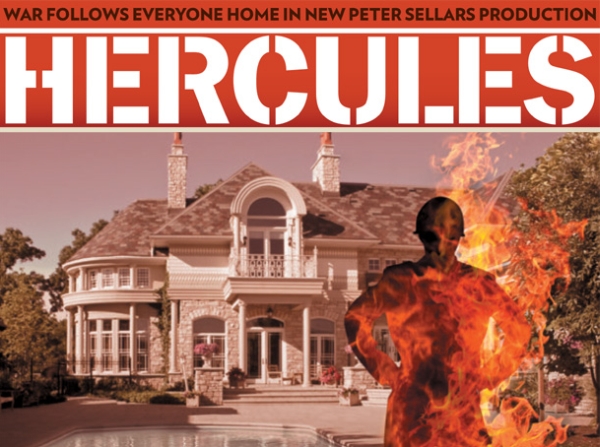 I don't want to be a professional critic.  I don't enjoy pointing out the many flaws in a bad performance or work of art.  I do enjoy promoting the works that I like, but only the luckiest professional critics can indulge in this activity on a regular basis.  Or the least honest ones.
I frequently turn to these critics for their opinions, though.  Especially after films and operas, rarely after concerts.  I almost never consult their opinions before I see or hear a work.  Usually I want to see if they agreed with me.  Sometimes I'm left with an impression of a piece, but I'm at a loss to describe why I feel a certain way, so I turn to a good writer to help me analyze my own opinions.
When time and resources allow, I try to get a representative sampling of critical opinions.  Rotten Tomatoes is great for this – whether or not I liked a movie, I always read at least one review from the opposite side of the aisle.
I'm compelled to write criticism of the Lyric Opera's new production of Handel's "Hercules" because I don't see my opinion expressed in any of the major media outlets, namely the Chicago Tribune and the Chicago Sun-Times.  In fact, it's not even in any of the bitchy Chicago theater blogs.  So this post is for anyone who saw "Hercules" and wasn't convinced by the von Rheins and Patners of the world.  An opposing voice to at least create a discussion.
Peter Sellars' production was a total misfire.  Not even a misfire – a malfunction.  No, not even a malfunction.  This was like a wiry little kid armed with a beat-up, seventy-year-old machine gun lazily spraying it all over the stage.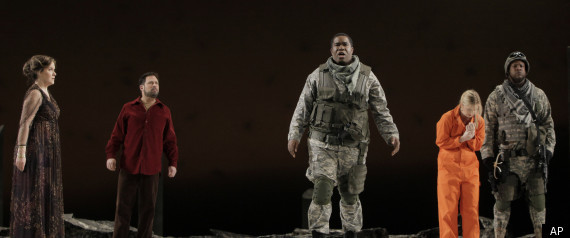 Mr. Sellars had a concept.  It had something to do with post-traumatic stress disorder and America's role in the Middle East.  I'm guessing he thinks both are bad.  His concept was less directed than costumed.  Cast members wearing contemporary American Army uniforms were juxtaposed with others wearing… something else.  I'm not sure what it was.  The gowns looked like they were recycled from a 1965 production of Cendrillon. Or from this.
Other than that, I'm not sure where the concept was enacted.  I doubt Mr. Sellars gave the matter any further thought.  What I saw on stage was a collection of half-formed, ill-conceived ideas.  Why was the Lyric Chorus performing a Differently Abled-appropriate rendition of the Macarena to this chorus?  We may never know.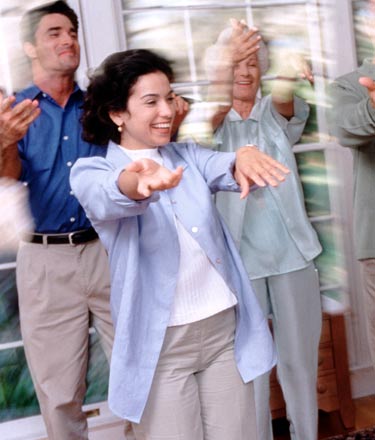 Musically, this was an excellent effort.  Harry Bicket's conducting was inspired, and the orchestra sounded wonderful.  Lucy Crowe was exquisite beyond words.  The only weak link was Eric Owens as the title character.  I have no idea what he was doing on the stage.  His voice did not in any way suit the material or match the style of the other singers in the cast.  Not to mention, if I were going to play the role of Hercules, I might stop by the gym a couple times before opening night.
But of course, this is Opera.
The music is gorgeous, but the score needs cutting.  I know we're all supposed to be living in some new era of refinement and intelligence, and we're supposed to love us some 2 hour acts of da capo arias.  But Baroque Opera is a tricky thing in that it existed before the invention of "plot".  A good, creative director can go a long way to helping us love the music for what it is.
It's nice that Peter Sellars arranged for meetings with Iraq War Veterans and involved other community organizations.  Perhaps the Lyric Opera should consider hiring him for their Outreach Department.  Nobody should consider hiring him to direct any more operas.  This was a truly bad production.
The Big Picture lesson here is one about projects and art and suitability.  There are certain subjects out there.  There are certain media as well.  If you're an artist, there are two ways to go about matching them: you can either say to yourself, "There's a topic that I really care about.  What is the best form for me to communicate and express it?" OR, "I'm involved in x project/medium, which is defined by certain tools at my disposal.  What would be good topic to explore given inherent virtues and limitations of these tools?"
What you don't want to do is say, "I really like this subject.  I'm doing this kind of project.  Why don't I smash them together and see what comes out?"
Which brings me to my next case:

Some things you just know are going to suck before you hear the first note.  This is one of them.  I see what's temptingly operatic about the story of Anna Nicole Smith.  Celebrity, money, family, death, tragedy.  Killer material.
The problem is that her story is a very contemporary one – she was a Pop culture icon.  So how do we deal with this?  Well, the first option would be to re-set her tale to a period that would be more commonly associated with opera.  That could even be really interesting.  Unfortunately, you would be breaking a cardinal sin of the opera world  – operas can only be staged later than their intended period.
So let's say you're the Royal Opera House and you've got your heart set on doing this Anna Nicole thing as an opera.  Your next step would be to find the artists to make it work.
And here's the real snag.  Anna Nicole's story is a tragedy, but it's a tragedy that played itself out in Pop Media.  She inhabited the world of MTV, Courtroom TV, and the internet.  So if you confine yourself to someone who is part of the official world of New Music, you're going to end up with the above.
For all his Puma footwear, Diesel jeans, and Versace glasses, the poppiest musical idiom he could muster for this show was a light swing.  This bit of advertising is VERY revealing:

Notice that you don't hear Mark Anthony Turnage's score.  You hear some song by this band called Age of Consent, which actually is pretty decent.  I'd say they would have been a much better choice for Composer on this project.