This past Monday, I did the first of (hopefully?) many children"s concerts that I shall do over the course of my career.  All in all, things went well, though I learned that the worst part of any children"s concert is definitely the children — they"re just too unpredictable.  Plus, there were some real tweakers among the Mainish children to whom I presented.
Philosophically speaking, I would offer a typically Žižekian reversal and propose that Children"s Concerts are truly for adults: the parents and grandparents are the ones listening and learning, and they feel especially good because they"re doing something "cultural" for their children.  Of course, if we take this assertion to its natural conclusion, it should mean that adult subscription concerts are really for children.  Maybe this is not so far off the mark, but only for a certain kind of child – the child who is entranced not only by the music, but by the elusive ritual of adult nightlife — the child who would savor the rare treat of being allowed to share the company of adults on a special occasion.
Anyway, I tried slots to make the whole thing interactive.  Here"s a clip:

God I hate my voice.  I wish it was deep and gravelly, like Lenny"s or Bea Arthur"s.  I could try smoking it down an octave, but the last time I had a cigarette I booted all over the damn place.  I suppose I"ll just have to live with the curse of my clear, beautiful, ringing, natural tenor.
Overall I was happy with the Kinderkonzert, but let"s just say, I don"t think there"s any danger of a shift in my key demographic, as this YouTube Analytics Pie Chart will certainly indicate: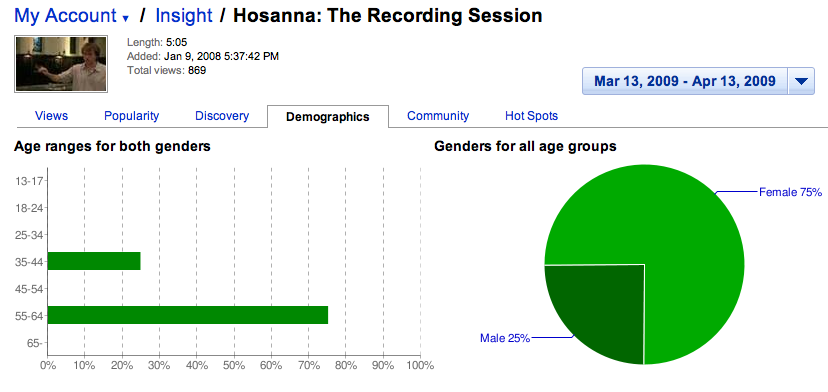 Come to think of it, maybe it"s just my Children"s Concerts that are really for adults… or maybe just old ladies.