The 2009 Summer Season of the Monteux School comes to an end today.  Not before our bitchin' Pops Concert though — in less than two hours time, I'll find myself playing cymbals on "American in Paris".  I've also volunteered my services as choreographer on that piece, and without anybody even asking.  That's just the kind of guy I am.
Other recent highlights have included conducting Bartòk's "Dance Suite", about the darkest work that one could imagine with that title, and therefore bad-ass, and taking the role of Sacrificial Virgin-cum-Conductor in Le Sacre du Printemps.  The former activity has me contemplating writing a satire piece called "Middle School Dance Suite", but we'll cross that bridge when we get to it.
In non-musical events, we continued a great tradition of the School Pig Roast.  Please notice the use, by one of my genius Southern colleagues, of mustard-based, Carolina Style BBQ sauce: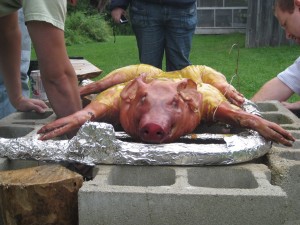 I think Maurice would be proud.  As would my South-Carolingian Great-Grandmother.
In other wildlife news, there was a firefly in my bedroom last night who thought he had found his Life Partner when my cell phone's LCD screen lit up to confirm the completion of my battery charging.  Plus I saw a roach in my kitchen whom I strongly suspect of having been a free-verse poet in a previous life.
Quickly, my vigilant friend Mary pointed out in a recent blog comment that Alexander Bernstein called into "CarTalk", and I think we've really got to sort through this one.  This is the link to the full interview.
We start with this: https://www.willcwhite.com/audio/ab%20cartalk%201.mp3
Questionable.
Next: https://www.willcwhite.com/audio/ab%20cartalk%201.mp3
Awesome.
Finally: https://www.willcwhite.com/audio/ab%20cartalk%201.mp3
So, Dear Readers, will you take the challenge?