A really excellent 36 hours in NYC with my good friend El Bensón.  Time was spent with his friends Diego and Sanra, proprietors of the tiny, ultra-hip Casa Felix in Buenos Aires.  When I asked Diego about his style of cuisine, he gave the ideal response: "I cook fish and vegetables".  Brilliant.  From now on, when people ask me what kind of music I write, I'm going to say, "I write music for voices and instruments."
Lovely breakfast with Dick Scanlan of Broadway fame who tended to agree with me that the state of Broadway orchestrations these days is in a shambles (though he's been unbelievably lucky in that regard when it comes to his projects!)
Took in the Francis Bacon Retrospective at the MET.  Some great stuff; I especially love his large scale sense of balance in his big triptychs, but many of the individual works leave me cold.  I'd say I'm about 60% a fan.  Did anybody who saw the exhibit think of Alien Resurrection looking at some of his early stuff though?
My second pilgrimage to Lenny's grave followed (the first was in '03):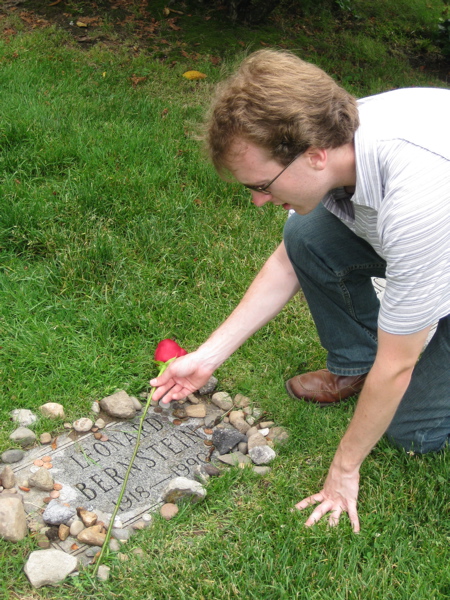 punkplay at the OHIO Theatre, a work which my friends in the Hipster Élite of the NYC Theatre Intelligentsia (that's how I roll) had been heavily anticipating.  I didn't expect to enjoy a play about Punk Rock so much; the very reason I did enjoy it was that it wasn't about Punk Rock.  It's a show about coming-of-age, and the Punk Rock setting serves the theme quite well… but the it's such a universal idea that it worked just as well (OK, maybe better) when it set in Mexico in Y tu mamá también.
A mere 8 hour drive after all these shannanigans, I wound up amidst the unbelievable stillness and serenity of Coastal Maine.  More on that later.