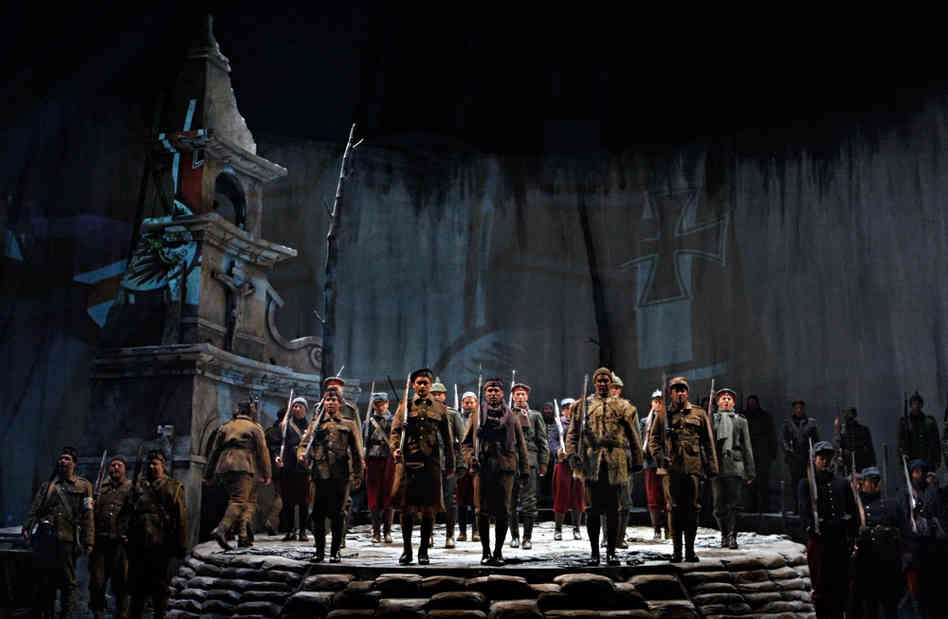 Kevin Puts'Â Silent Night (which has its own trailerrific web site) just played at the Cincinnati Opera. In 2012, this piece won its composer the Pulitzer Prize for music. Â If anything, it should have won for drama; the score was a bunt.
There are a few beautiful moments, but no big tunes, no searing arias, no wondrous dramatic set pieces for the orchestra.  My main complaint with contemporary composers of classical music is that they so rarely seek to compete with the immortals.  Why compose an opera if you're not setting out to beat Puccini at his own game?  I'd rather see another Tosca or Wozzeck.  Those may be masterpieces, but they can be outdone, and that's exactly what we composers should always be trying to do.
During the intermission, I heard one old lady say to another old lady, "it's a nice story, with music." Â That about sums it up. Â In fact, I'd say it's much more like a movie with an OK soundtrack in which the dialogue happens to be sung in vaguely melodic-ariosi.
I can see why people would like this show, or say that they like it, (the libretto uses multiple languages, the set and costumes are excellent, the true story is intriguing) but I'd be willing to bet that true opera lovers will feel disappointed, even if they can't articulate why.
But it's most often non-musical people who get to decide what music we get to hear at our big institutions, so this piece is sure to get many more performances and productions.  That's a shame if it keeps opera companies from commissioning really good new operas that sing in your heart for a lifetime.