I have been in Hancock, Maine nigh on a month plus change, Conducting-Associating my little heart out for l'École Perry Montux.  Yesterday, the unthinkable occurred — we experienced our third straight day without rain.  Around these parts, that's considered a dangerous drought, but I found it so inspiring that I decided to embark on a little photojournalism project to get to the heart of Hancock.
Where better to start any trip to Hancock than at The Raye Chainsaw Sawyer Artist? Nightly shows at 7:00 PM feature The Raye Chainsaw himself sculpting masterpieces from logs.  Speaking of logs, next we move to…
Alden Bunker, Pine Tree specialist to the stars.  What Enterprising young Pine Tree specialist wouldn't want to establish Hancock as his home base?  The one confusing thing about Alden's is that the parking lot is always full of school buses, not pine trees.  Rather, I should say full of Handcrafted Pine School Buses, painstakingly designed by Raye Sawyer, nightly.
It's true that Raggedy Ann Dolls are not hard to come by — most small towns with populations of 500 or more have entire stores devoted to them.  Thank goodness I came to Hancock though, where Raggedy Andy is given his due.  I just hope that the owner of that 1984 gray Cadillac Sedan isn't planning to dress his Raggedy Andy doll in any of those American Girl Size clothes.  They'd probably be too big for him anyway, what with some of these obese children I see walking around here.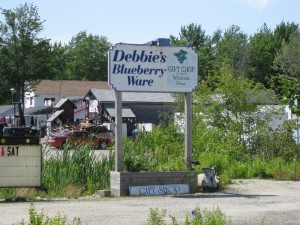 Never having patronized Debbie's myself, I can only imagine what sort of Blueberry Ware she has in store for us, but I do know one thing — if you're sick of those high-end, marked-up Blueberry Ware prices, you can always walk right next door:
Yes, all this plus a Conducting School and a Gazebo await you in beautiful Hancock, Maine.  I defy even Ludwig von Mises to explain this local economy.