The Ballad of MTI's Ass-Hat Arranging Department goes something like this: in January, Anno Domini 2013, I read this very article published by no less venerated an institution than the New York Times, wot made me think, natch, "I should like to program, perform, and conduct one of these Sondheim Suites myself!"
Flash forward to two 1/2 months ago when I opened the box from the publisher and found music proudly bearing the following title: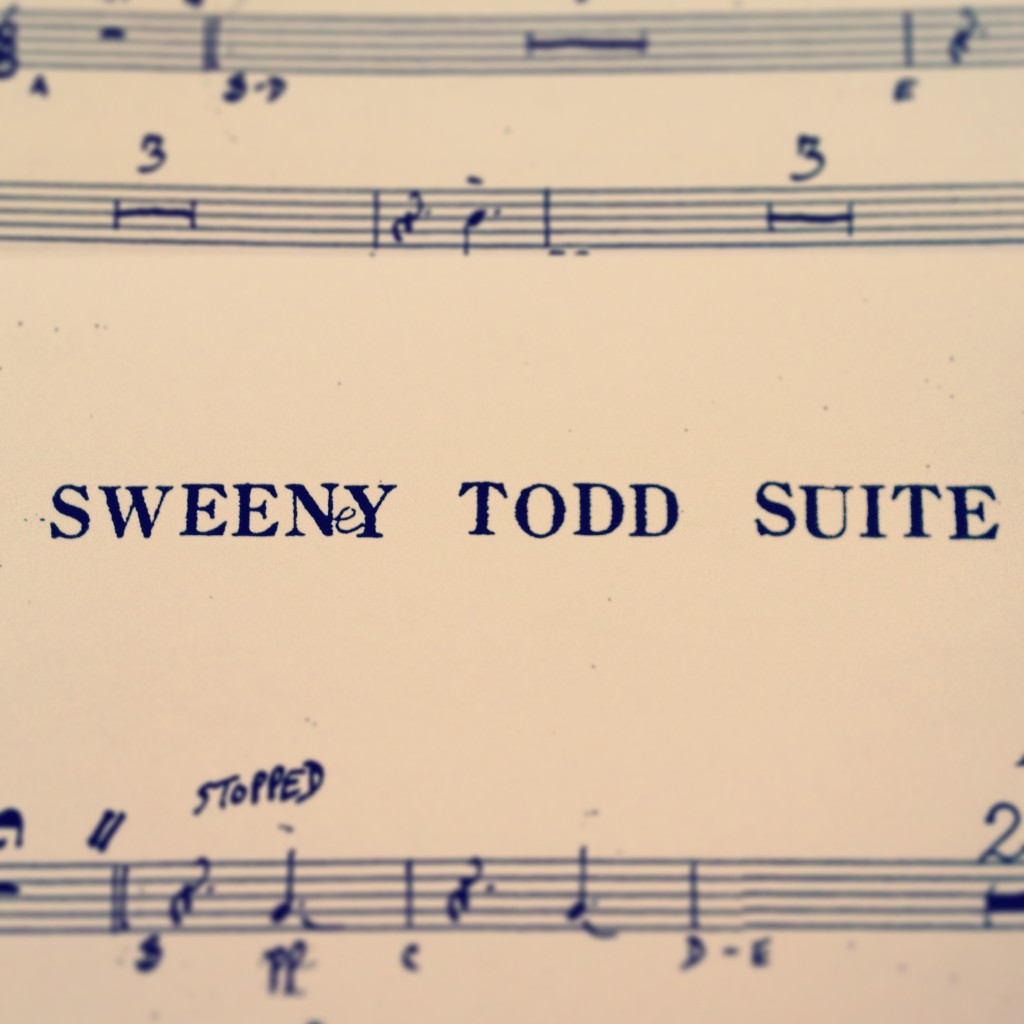 And that was just the beginning.  Wrong and misspelled notes, nonsense articulations, pointless doublings, shoddy orchestration, useless transitions – and all of that illegibly copied.  At every level, this arrangement, by Don Sebesky, was a Hack Job.
What's a girl to do?  I scrapped the Sebesky arrangement and wrote my own from scratch.  Mine includes "The Ballad of SweenEy Todd", "My Friends", "Green Finch & Linnet Bird", "Ah Miss", "Joanna", "A Little Priest" and closes with a reprise of the "Ballad".  It is superior to MTI's house arrangement in every conceivable way.  I conducted it in concert yesterday, so to The Man, I say, good luck getting me to cease and or desist.
Who the hell is this Don Sebesky in the first place?  Well, according to this book, he wrote orchestrations for the 1983 revue Peg, Cy Coleman's The Life, and his own 1989 Prince of Central Park.
I hate to judge a guy by his resume – there are plenty of people out there doing quality work in obscurity.  But really, is this the person to whom we want to entrust an orchestral arrangement of Sweeney fecking Todd??  It's quite possible that he's decent at writing for a Broadway pit band, but writing for a regulation-size symphony orchestra is a different beast altogether.
I feel a little like Otto Nicolai who, legend has it, had to single-handedly found the Vienna Philharmonic just to ensure quality performances of Beethoven's works in Vienna.  Perhaps that's a ridiculous comparison, and I should just let Sondheim and his music fend for themselves (or at the very least not insult other arrangers and their publishers in catty blog posts) but it's just, I feel like I've got to do SOMETHING, you know?