OK, a while back, I posted a blog entry about poor Esa-Pekka, who had been made to look so egregiously un-handsome by some LA press agent's legerdemain, and now it's maybe gotten worse…?
…to the point where I have to suspect that he is consciously choosing to present himself in the least flattering light, perhaps under the assumption that an ever-vivacious 50-something conductor/doyen does not a full-time serious composer make.
But at least he looks way less old-lesbianish in this more recent photo – more grizzled, more rugged, even kind of hot (I mean come on, those eyes…?)
But what, Dear Readers, are we to make of the following image??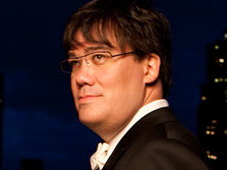 To the credit of the New York Philharmonic, they did not choose their new Music Director for his looks. Maestro Gilbert never won any beauty competitions and that's just fine – I'm sure he more than makes up for it in his probing interpretations.  But to the publicity department of the NYP: surely, surely we can do better than this… can't we?
What happened to the days of composers and conductors having respectable portraits taken of themselves?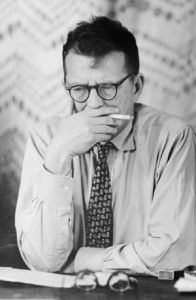 And since we're on the subject: where are the cigarettes in the first two photos??  As the portraits of Mssrs. Reiner, Ravel, and Shostakovich clearly reveal, any adult male classical musician who wants to be taken seriously needs to be photographed smoking a cigarette, regardless of whether he smokes in real life.  It wouldn't hurt him to get his ass over to a piano and procure a large piece of manuscript paper either.
Pitted against their predecessors, the first two photos come of looking pretty amateurish.  Of course, certain advanced models should not necessarily be emulated: