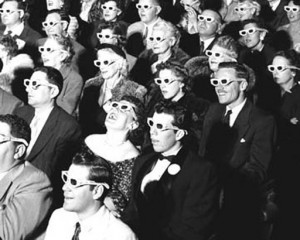 Does the thought of a middle-aged North German woman's violin bow thrusting out into your face fill your little heart with glee?  Well then you're in luck, because the Berlin Phil is now in 3D!  And you can even watch it in 3D on your computer, if you click on the links at the bottom of that page and then you are able to figure out how to activate the software (maybe it's a PC thing?) and of course, if you have the proper eyeware.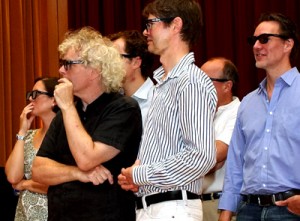 Dare I admit that this development hardly came as a surprise to me?  Well, it didn't.  Avatar may have announced the arrival of this revitalized technology, but there was another summer blockbuster that confirmed it was here to stay: Step Up 3D.
I recently took in a screening of this third installment of the Step Up triptych with these three other dudes.  Not having seen the previous two films, I was worried that I would be hopelessly adrift when it came to the plot.  Not so.   The writers were extremely generous in the pains they took rendering the story's exposition crystal clear.  And the third dimension made up for everything else.
In all seriousness, I do predict that the Met will be the next to jump on the 3D bandwagon.  What exactly these organizations think they have to gain from going 3D is a little bit beyond me though – in fact, I already find the HD Met broadcasts a tad frightening in their intimacy… 3D threatens to go well over the line.
The other trendy new orchestra thing seems to be these season trailers.  Witness:
[bt-dubbs, is it like, embarrassing that they both chose Sibelius symphonies as their theme music for the present season? At least it wasn't the same symphony… would be a little like showing up to a party wearing the same dress, Ã  la Lucy and Ethel or Dorothy and Blanche?]
In fact, the Baltimore Symphony is even doing this weird thing wherein they present a concert of individual movements of the season's highlights.  Interesting, isn't it, that this modern idea ends up closer akin to what an orchestra concert used to look like 150 years ago…
I've got a much better idea for these orchestras, so I think it's time for a pitch: instead of cheezy video montages and patchwork regional concerts, why not hire me to write a Medley of the big tunes that will feature in your season's repertoire?  You choose the tunes and leave the rest to me — I'll jazz 'em up with swell new show-biz arrangements and string them together with an array of irresistable musical theater transitional clichés.
[You know the type:
It will make for a killer promotional tool.  Especially when you film it — wait for it — in 3D.