Last week, Indiana University was thrown into a minor turmoil by this whole Cleveland Orchestra scandal.  Essentially what happened is that the Cleveland Orchestra (which is apparently available for your next residency, wedding or bar mitzvah) was scheduled to come to the Jacobs School of Music to perform a series of workshops and side-by-side rehearsals and to give a concert, along with their dreamy Austrian music director, Franz Welser-Möst
The problem was that the Cleveland players had been playing without a contract for several months and they had set a strike date at 12 midnight last Sunday, leaving us trying to guess whether or not they would in fact go on strike, and whether or not they would travel to our campus.
Well, if you read the NYT article at the top, you know that they did in fact go on strike, and that they did NOT come to IU.  BUT, the strike only lasted for only ~12 hours — just enough time for them not to come to Bloomington, but safely in time to make it  to their highly lucrative residency in Miami, FL.
A little suspicious, wouldn't you agree? Â I say it smells – rotten.
Well OK, I wouldn't actively accuse the entire orchestra of welching on their promise to the poor students of this fair institution just for kicks, or laziness or whatever. Â The strike date was set months ago, but in all fairness to us (Bloomingtonians), isn't it possible that the orchestra's union could have handled this matter in a slightly classier fashion, so that the only ones who got screwed weren't the aspiring young music students?
Some other people here in Bloomington had the same question. Â Enter the fabulous, Inaesque personality of a certain former concertmistress of the Minnesota Orchestra, one Jorja Fleezanis, currently a faculty member at IU, who decided to organize a little forum to talk about this very question and others.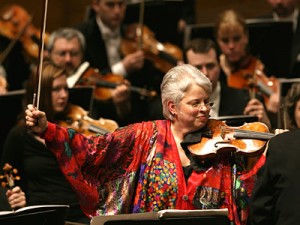 The thing I liked most about Ms. Fleezanis' little powow was that she wasn't afraid to expose the faulty logic of Cleveland's Musicians' Union for what it was, though she did it with real panache.  If I had been running it, I probably would have pointed out that these musicians come off as rather naïve in their understanding of the current economy.  OK, let's just say downright stupid.  People are losing their jobs left and right, the classical music industry is nothing more than a glowing ember (outside of China, that is), and they are seriously going to argue over a few thousand dollars a year when the current minimum salary is already $115K??  [Median is $140K and the top players make over $500K, btw… not to mention the fact that many if not most of these musicians pad their incomes with highly lucrative professorships at CIM and Case Western.]
The Cleveland musicians claim that if they aren't paid at parity with the other "Big Five" American Orchestras, their quality will go down.  I was very glad to hear Ms. Fleezanis agree with me that this perspective simply doesn't jive with the reality of supply and demand in the classical music business.  Our conservatories churn out highly, highly qualified candidates on an annual basis, such that even tiny regional orchestras have huge turnouts for their auditions.  Add to these freshly minted young people the denizens of older musicians who have way more experience but are out of jobs right now, and it should be obvious that there are far too many people chasing way too few jobs in the "industry".  It's a buyers' market.  I would argue that Cleveland could get itself at least as good an orchestra for about half the price.
[Oh, and about that "Big Five" thing… isn't it a shame that they're always the last to know?  Yikes.  It's no wonder that anyone who's still latching onto that old trope would find themselves following the above "logic".]
Herr Welser-Möst (which is not his real name, according to this gossipy little article from a certain "Wikipedia") did end up coming to Bloomington nonetheless, and I did get the chance to work with him.  He's an absolute gentleman and had some really lovely and helpful things to say about music.  If only he could have convinced his colleagues in Cleveland that it was worth their while to quit squabbling for a few hours and come share a bit of that beauty with us.
---
And I'm still pissed that I didn't get to hear the goddamn Adès Violin Concerto!!!!