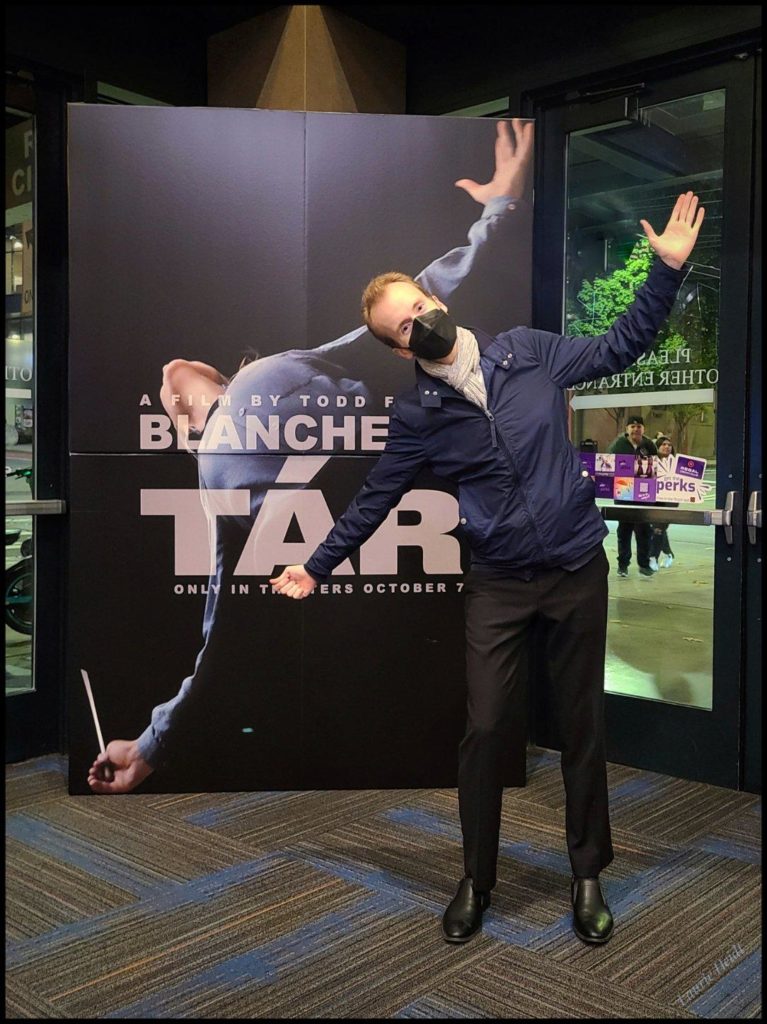 I wrote rather extensively about Tár in the Classical Gabfest Newsletter this week. [If you haven't been paying attention, my beloved podcast, The Classical Gabfest, is sadly on a hiatus that is probably going to be permanent, but never say never. However, it has morphed into The Classical Gabfest newsletter on Substack, so if you're hankering for a weekly dose of news & opinion about the world of classical music, head on over and subscribe!]
I have still more to say, but first, the trailer:
Things I can identify with about Lydia Tár:
She sits in her faux bois-lined childhood basement watching VHS tapes of Leonard Bernstein, crying at his genius. Extremely relatable content.
She demands that matcha lattes be delivered at a moment's notice.
She unthinkingly and illogically switches between languages while running a rehearsal.
The fits
Lydia's style — and the actual scenes of bespoke tailoring — are one of the true highlights of the movie. Major props to the costume designer, Bina Daigeler, whose other credits include Volver and Todo Sobre Mi Madre!!!
Did I cringe watching Cate Blanchett conduct?
Actually, no. That's not to say her conducting wasn't bad — it was terrible. But there wasn't much of it, and in a way, when she was conducting, it functioned as a bit of comic relief and distracted me from the utter insanity of the rest of the movie.
The REAL cringe moment was the scene wherein Lydia addresses her orchestra and proposes that they pair Mahler's 5th with Elgar's cello concerto. It would actually be a bit of a spoiler to explain the circumstances surrounding this, but suffice to say, nothing in the real world works this way, and I was chewing my knuckles in discomfort.
Other things that don't make sense
In a pivotal early scene, Tár criticizes a Juilliard conducting student in the context of a masterclass for conducting a work by an Icelandic composer (Hildur Guðnadóttir, the actual composer of the score) for a small, 7 or 8-instrument new music ensemble. And here she was right — it did suck — but then she asks him why he didn't choose Bach's Mass in B minor.
This is just patently absurd. For one, when you participate in a masterclass, you don't get to pick the repertoire. But let's say this wasn't a typical masterclass — perhaps this young conductor was preparing for a performance, and the rehearsal was used as the setting for a masterclass. But even then, I can not emphasize the absurdity of the idea that the student's repertoire choices would have been a) a contemporary chamber work, or b) a sprawling, hours-long Baroque oratorio for voices and orchestra.
If she wanted him to conduct Bach, she should have suggested a Brandenburg concerto!
What's my motivation?
My lingering question is this: Was Todd Field trying to express something about contemporary society, and then decided that the classical music milieu was the correct setting? Or was he attracted to the world of classical music and decided to explore it, and this is what he came up with? I guess I could read an interview or something, but I don't feel like it.